International Community Center
The Marilyn M. Boyd International House Lounge
Dedicated on Friday, October 16, 2009, the Marilyn M. Boyd International House Lounge is truly the heart of International House at Illinois State University. This international community center, which is located in 105 Vrooman Center, is outfitted with a study area, lounge area, a small kitchenette, and a multi-purpose entertainment center; all of which can be used by international and American students wishing to find a place to come together and have fun on campus. The International House Lounge also houses the International House staff offices, allowing students convenient access to International House staff members should they have any questions or concerns.
International and American students, regardless of whether or not they live on the International House TLLC Floors, are encouraged to visit the International House Lounge and take part in the various functions and activities hosted through this venue. International House and Office of International Studies and Programs alumni are also encouraged to visit this space to view our galleries and archives of international student information and interact with the current generation of International House students.
Marilyn M. Boyd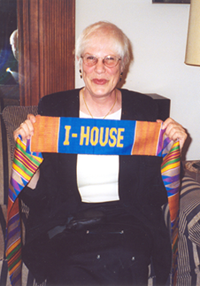 Marilyn Boyd began her career as International House Coordinator in 1982. During much of her time in that position she was a constant presence in I-House, living in apartments in Walker Hall, and later in Atkin-Colby. Through her job she became a surrogate mother, aunt, confidant and friend to hundreds of international and American students.
"She made the International House just like her home," said Taye Woldesmiate, an instructional assistant professor in Illinois State's Department of Politics and Government, and one of Boyd's close friends. "The students became part of her family and life and she became part of their family. She lived with them and their lives became intertwined. She was the mother to her own children, Benjamin and Lisa, and to all of the international students."
Marilyn Boyd served as International House Coordinator for over two decades, retiring in December of 2006 due to health complications. On January 22, 2007, Boyd passed away after a battle with cancer. News of her death saddened people across the globe and her visitation and memorial service were attended by hundreds of friends and colleagues. "Marilyn touched the lives of thousands of people in a very positive way," said OISP Associate Director Sarah Jome. "Her life and career were devoted to working for peace and understanding in this world."
Boyd's legacy as an international educator will carry on in the memories of those who knew her and in the spirit of the programs at Illinois State. Her life's mission of promoting peace and understanding among nations operated on a simple, yet profound concept. In Boyd's own words: "The only way we can promote understanding is to get to know each other. Once you get to know people, you begin to see how generalizations and stereotypes just don't fit."