Documents Needed
We strongly recommend you bring certain documents with you when you travel within the U.S. or internationally during your time as an Illinois State student.
Documents Needed FAQ
If you stay within the U.S. and its territories (this includes Alaska, Hawaii, Puerto Rico, the Northern Mariana Islands, and the U.S. Virgin Islands), you should carry your immigration documents with you as proof of your valid status.
I-20 (F-1 students) or DS-2019 (J-1 students/scholars), passport, visa, I-94 Printout. Your visa can be expired: F-1/J-1 students and scholars do NOT need a valid visa to stay within the U.S. (Make sure that you do not travel to any other country in route to your final destination.)
Redbird card as evidence that you are an ISU student or scholar.
Travel Abroad for Less Than 5 Months
ISSS encourages all international students to notify their International Advisor prior to any international travel by emailing your travel destination and dates to InternationalStudents@IllinoisState.edu.
All students or scholars traveling abroad should verify they have all the necessary documentation for re-entry prior to departure. Many common questions regarding F-1 travel and re-entry procedures can be answered by visiting F-1 Travel FAQ. If you have further questions or concerns regarding travel abroad, you may discuss them with your International Advisor during walk-in hours.
Be sure to carry your immigration documents with you rather than putting them away in your checked luggage. You must be able to show your papers quickly at various points during your trip. It is recommended that you carry the following documents with you when traveling abroad:
F-1/J-1 students/scholars require a valid travel signature. The travel signature on your I-20/DS-2019 is valid for one year from the date it was signed. If you need an updated travel signature, see the Travel Signatures page.
Passport valid for 6 months past your date of re-entry.
Valid U.S. F-1/J-1 visa (citizens of Canada and Bermuda do not need a visa to enter the U.S.).

If your visa stamp has expired, you will need to apply for a new visa in order to re-enter the U.S.
Visit the Visa Information section for further details.

I-94 Printout marked D/S
Contact information for ISSS in the event that the border officer needs to reach an International Advisor

Main phone: (309) 438-1931 (during regular business hours)
ISU Police: (309) 438-8631 (emergencies outside of regular business hours). This number should only be used in an emergency situation at the border, in which the border officer needs to immediately contact a school official (DSO/ARO).

Other documents related to your status: transcripts, recent tuition receipts, proof of finances (bank statement, scholarship award letter, etc.), Redbird card, ISU employment or invitation letter, documents related to any pending USCIS applications, SEVIS I-901 fee receipt.
Valid visa for other countries: If you are not returning to your home country or will be traveling through other countries, you may need a visa to travel to or even through (transit visa) other countries. Check the foreign embassy/consulate website for every country on your itinerary.

Visit the Department of State Learn About Your Destination site to find important travel alerts/warnings and links to foreign embassy websites where you can check visa requirements.
Travel to Canada, Mexico or Adjacent Islands
F-1/J-1 students and scholars should carry the same documents for travel abroad (listed above). The only difference is that your F-1/J-1 visa can be expired if you are eligible for automatic visa revalidation.
You are eligible for automatic visa revalidation if ALL of the below are true:
You are traveling for 30 days or less
You have maintained and intend to resume your F-1/J-1 status
You did not apply for a U.S. visa while abroad
You are not from Cuba, Iran, Sudan, or Syria
Any time you travel to a country that is not your country of citizenship, you should check whether you need a visa to enter or transit through that country.
List of adjacent islands:
Saint Pierre
Miquelon
Cuba
The Dominican Republic
Haiti
Bermuda
The Bahamas
Barbados
Jamaica
The Windward and Leeward Islands
Trinidad
Martinique
Other British, French, and Netherlands territory or possessions in or bordering on the Caribbean Sea
If you will be traveling abroad for more than just a few days in the middle of the fall/spring semester and not during one of the normal school breaks, ISSS recommends that you request a letter from your academic department:
explaining the reason for your travel
stating that your course professors (or host faculty for scholars) are aware of your travel plans
verifying that you will return to resume your studies or work
You should carry this letter with you while you are traveling, along with all the other documents for travel abroad (listed above).
When arriving in the United States and going through Customs and Border Protection (CBP), you will show the CBP officer your I-20 form and passport. The Study in the States website contains general information regarding Getting to the United States. If you are given permission to enter the United States, the inspector will stamp your passport. An arrival/departure record (referred to as an I-94 record) will also be automatically created for you.
Watch the CBP's You've Arrived video for a general overview of the arrival process.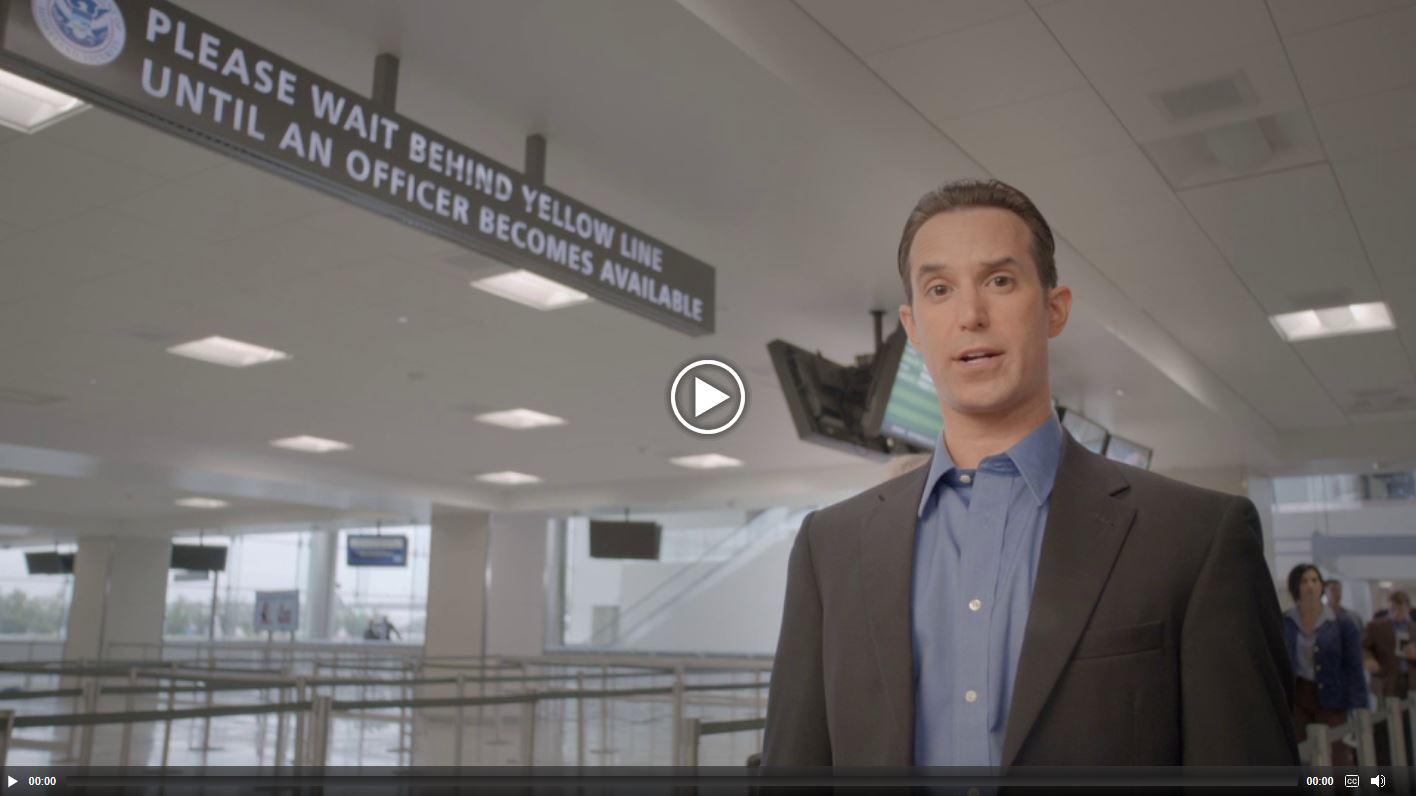 I-94 Printout
F-1 and J-1 students and scholars should printout their I-94 record after every re-entry into the US. Even though you have been granted an F-1/J-1 visa in your passport, the Customs and Border Protection (CBP) officer has the authority to deny or grant you entry into the US. Your I-94 printout serves as proof of the status you were granted admission on and the length of time you are permitted to stay in the U.S.
Print and review your I-94 information after every re-entry to make sure your were admitted in F-1/J-1 status and for "D/S" which stands for "Duration of Status." This means that you are allowed to stay in the U.S. as long as you continue to maintain your status. If any information is incorrect on your I-94, please contact ISSS immediately.
CBP's I-94 site only provides travel records for the past five years. If you believe you will need to reference your form I-94 for a period longer than 5 years from the date of admission, you will need to print a copy of the document prior to this deadline. ISSS highly recommends the form I-94 be printed after every arrival as it can be used as evidence of a lawful admission.
I-94 "Not Found"
If you attempt to retrieve your I-94 record online and it is "Not Found", you can try altering the data you are entering to see if it will pull up your record. See the tips below.
Enter your name as it appears on your passport
Ener your name as it appears on your visa
Enter your name as it appears on your airline ticket/boarding pass
Enter both your first name and middle name in the First Name field
If you have a hyphen in your name, try entering the name with and without the hyphen
Switch the order of your names (put first name in the last name field and vice versa)
Switch the order of your birth day and birth month
Remove spaces in between multiple names
Enter your visa number instead of your passport number
If you have an old/expired passport, try entering your old passport number
Do not enter the year if it is included in your passport number
How to Retrieve a "Not Found" I-94 or Correct I-94 Errors
If you tried all the tips above, but still can't retrieve your I-94 or if you find an error on your I-94, you have the following options.
Option 1: Email i94chi@cbp.dhs.gov. Include the following information in your email:
Port of entry (ex. Chicago ORD)
US address
Date of flight
Airline name
Flight number
Attach a copy of the biographic page of your passport, F-1/J-1 visa, entry stamp, page 1 of I-20/DS-2019, and the incorrect I-94
Option 2: Submit your question/issue using the CBP Traveler Communications Center online form. Select "I-94/Traveler Compliance" for the topic and "Issue with my I-94/Travel History" for the applicable issue. You can also upload files that may help them find your record, including:
an image of the biographic page of your passport
an image of your visa
an image of your CBP admission stamp
Option 3: Contact the nearest CBP Deferred Inspection Site to have it corrected. Practices and hours vary from location to location, so make sure to contact the site before arriving.
Travel History Errors
According to the FAQ section of the I-94 website, the Travel History information on your I-94 comes from a variety of sources, and so may not always appear accurate. CBP's I-94 site only provides travel records for the past five years. Travel History records are based upon flight manifests, so if you find an error, you should start by contacting the airline.
Secondary Inspection
If you are missing any of the required documentation for entry into the U.S. or the border officer cannot verify your information, you may be brought to an interview area known as "secondary inspection." It is important that you have the phone numbers for ISSS in case an International Advisor at ISU needs to be contacted in order to verify your valid F-1/J-1 status.
If you are continuously sent to secondary inspection or are experiencing other problems at US ports of entry, you can submit an inquiry through DHS TRIP.
Form I-515A
If an F-1/J-1 student or scholar has most but not all of the documentation required at the border, the officer may choose to issue a Form I-515A. This form gives the student temporary admission into the U.S. for 30 days. During that time, the student/scholar must submit the missing documentation to SEVP in order for their admission to be extended.
If you receive a Form I-515A, contact ISSS immediately after your arrival and schedule an appointment to meet with an International Advisor.